Academic Research in Graphic and Digital Design at Ésad de Reims
---
ARC « Forms of writing (Formes de l'écrit) »
This Research and Creation Workshop questions the links between drawing, writing and memory. How to represent, leave a trace, write, draw, report, record (…)? These questions of restitution go through time and continue to be an important subject for many artists, researchers, historians…
This is a formidable field of exploration because it invokes different types of language (computer, new technologies, choreographic, virtual, but also scriptural, graphic, typographic) evolving with the times. From graffiti to conceptual art, in the history of art, the relationship between writing, drawing and memory has inspired many artists (Tania Mouraud, Irma Blank, Mirtha Dermisache, Sol Lewitt, Daniel Buren…)
Questioning the forms of information with the Datavisualisation programme
Similar to 'research through design' (Findeli, 2005), the programme questions the visual forms of data and its processes. It explores the potential relationships between graphic & digital design on the one hand, and scientific analysis of bigdata on the other, by proposing to make research data, their processing methods (algorithms) and their intrinsic tendencies sensitive and visible before any analysis. The hypothesis being that a visual representation a priori coupled with an exploration tool articulated to a given research process is likely to produce an enrichment, or even a displacement of this process…
» programme & project excerpts
Interrogating the relationships between Forms, Technologies, Society.
The Forms, Technologies, Society programme consists of meetings between theorists and practitioners, in the form of seminars, study days and colloquia, co-organised by Esad Reims and the Institut Mines-Télécom, since 2011.
If the wide diffusion of information and communication technologies participates in a cultural and social mutation of our societies, the multiple stakes of the digital era invite to explore this mutation by soliciting various disciplinary fields coming from the human and social sciences, as well as from the engineering sciences or design…
Recent publications and communications

Corps connectés. figures, fragments, discours
Co-edited by Armen Katchatourov, Olaf Avenati, Pierre-Antoine Chardel et Isabelle Queval, published by Presses des Mines ed. (2022).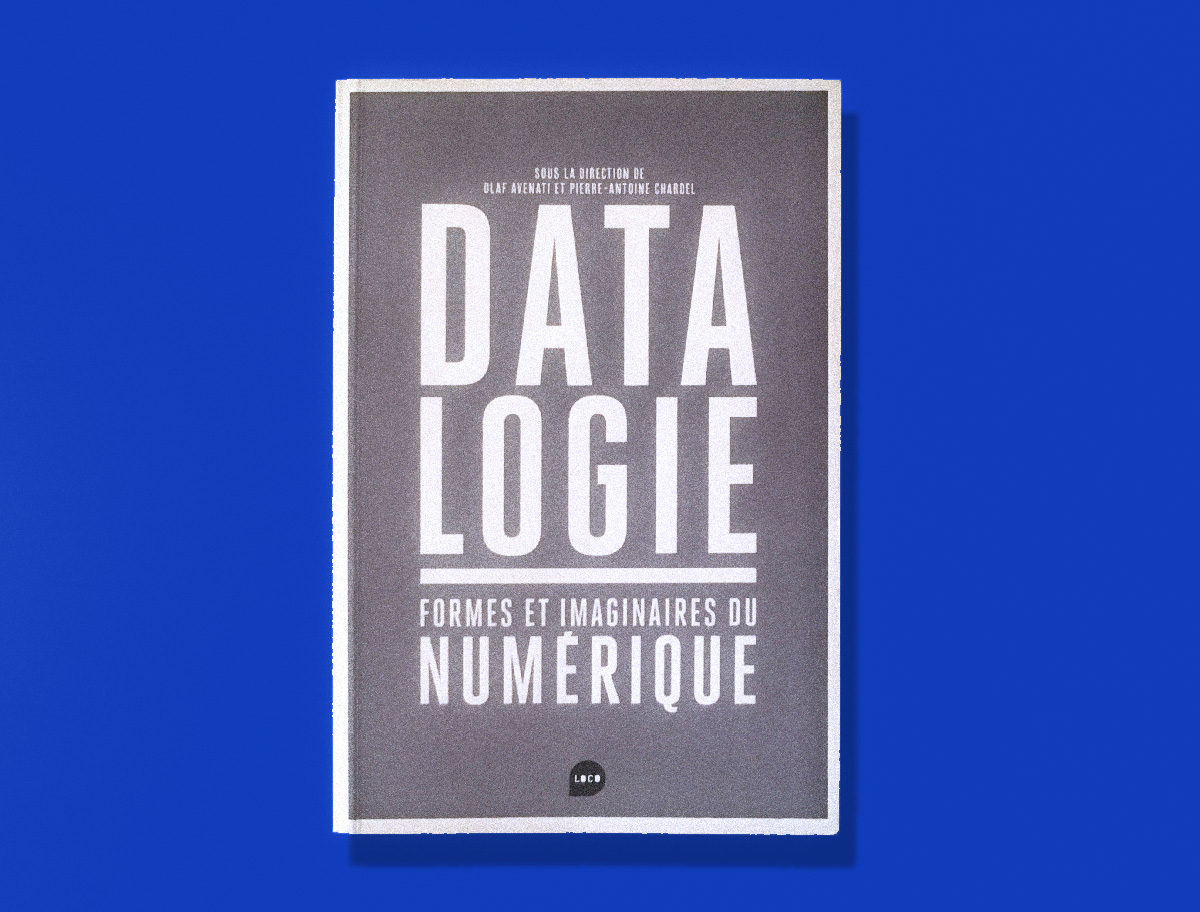 Datalogie. Formes et imaginaires du numérique
Publication of joint research work by Ésad and IMT-BS / IMT
Co-edited by Olaf Avenati & Pierre-Antoine Chardel, published by Loco ed. (2016).
Colloquium À l'épreuve des données, Université catholique de Lille, in the framework of the Biennale ECOPOSS
colloquium programme
Visual data design process deconstruction essay, 28 October 2022.
Conference at IRI / Centre Pompidou
Datavisualisation et Formativité, 5 May 2022
Presentation of the Datavisualisation programme and in particular the Brain Roads project.
Conference at INRIA / IPL BetterNet
IPL BetterNet
Meeting IPL BetterNet, 24 June 2019
Presentation of the Datalaxy project: visualization of 20 days of Jane Doe's recordings on Facebook (project carried out in the framework of the Id-DIM post-graduate programme).
Conference at TTCLabs – Design Jam, StationF, Paris
At the invitation of Facebook's Trust, Transparency and Control Labs, conference on Design, Trust and Personal Data, presentation of the Datavisualisation programme and its recent developments, 7 September 2018.
www.ttclabs.net
Conference at Enssib, Villeurbanne
Summer School of Cartography and Visualisation 2018 directed by Éric Guichard, from 9 to 11 July 2018.
Organised by RAIL, the Réseaux, Savoirs & Territoires team and Enssib, with the support of its scientific council.
Presentation of the Datavisualisation programme and its recent developments.
programme
Conference at Orange Gardens
Presentation of the Datavisualisation programme to the Orange Business Model Community, 15 January 2018.
Conference at École Normale Supérieure
Atelier Internet, le 10 mars 2017
Exploring the links between technology and culture, between design, IT and philosophy.
Conference at FORuMIDABLE 2017
ENSCi – Les Ateliers, 15 June 2017
Presentation of the programme Datavisualisation. plus